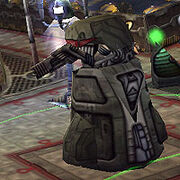 A security column is a tower that tracks nearby peeps and fires on criminals, spies, vermin and enemies. When at war with other sections turrets will automatically target and fire at enemies, but during peace time you may have to manually assign them as targets.
It can be built on the sub level and pleasure deck.
Security columns drain energy when firing.
Their range depends on the skills of the security force working in the security control.
If you are worried about Skrasher attacks you may want to place these near sickbays.
| Trader | Cost to buy () | Cost to sell () |
| --- | --- | --- |
| Arona | 5000-6250 | 3750-5000 |
| Gem slug | 5000-6250 | 3750-5000 |
| Grey | 5000-6250 | 3750-5000 |
| Karmarama | 5000-6250 | 3750-5000 |
| Kasvagorian | 2500-3750 | 1250-2500 |
| Salt hog | 5000-6250 | 3750-5000 |
| Siren | 5000-6250 | 3750-5000 |
| Targ | 5000-6250 | 3750-5000 |
| Turakken | 5000-6250 | 3750-5000 |
| Zedem | 5000-5500 | 4500-5000 |
| Trader | Cost to buy () | Cost to sell () |
| --- | --- | --- |
| Arona | 12500-13750 | 11250-12500 |
| Gem slug | 12500-13750 | 11250-12500 |
| Grey | 12500-13750 | 11250-12500 |
| Karmarama | 12500-13750 | 11250-12500 |
| Kasvagorian | 15000-16250 | 13750-15000 |
| Salt hog | 12500-13750 | 11250-12500 |
| Siren | 12500-13750 | 11250-12500 |
| Targ | 12500-13750 | 11250-12500 |
| Turakken | 12500-13750 | 11250-12500 |
| Zedem | 12500-13000 | 12000-12500 |